Formula 1 Subaru Flat-12:
In 1990 Subaru took over the Coloni Formula One team, acquiring a 51% ownership stake, paying off the team's debts, and supplying a new, unique engine. The engine was a flat-12 called the "MM" series, which in fact was penned by Carlo Chiti.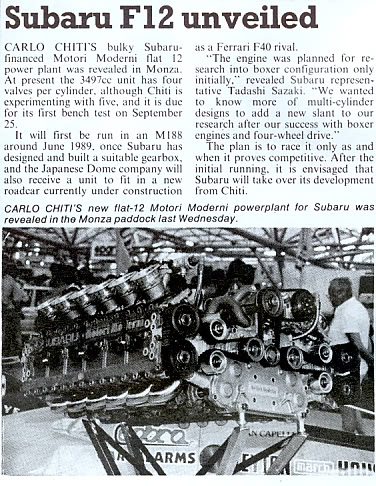 Chiti's Motori Moderni company at Novara had supplied V6 turbo engines for the Minardi Formula One team from 1985 to 1987, and in 1988 Chiti had penned a naturally aspirated V12 engine that attracted Subaru. In late 1988, the Japanese commissioned Chiti to design a new Formula One engine with a "flat" layout, as used in their road cars.
The engine was completed in the summer of 1989, and was tested in a Minardi M188 chassis; due to a severe lack of power, Minardi lost interest. After a few months of searching, Subaru found the Coloni team. Eventually, the Subaru Coloni team was founded with Enzo Coloni staying on board as the man for operational business.