DCCD Subaru STi Explained:
The Driver's Control Center Differential system is system that appropriately controls the differential limiting force of center differential LSD depending on running conditions of a vehicle. The DCCD system evolved provides controls that follow operations of the driver, while conventional DCCD system provides those based on conditions of the vehicle.
The system consists of a center differential of planetary gear type provided with LSD function, a steering angle sensor, a yaw rate sensor, a lateral G sensor, a DCCD control module and other components.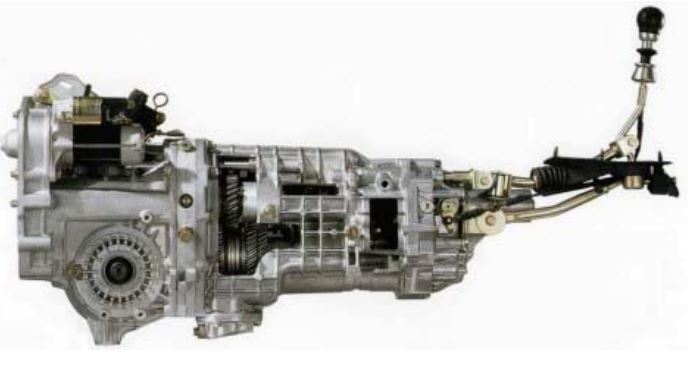 Hybrid LSD mechanism using conventional electromagnetic clutch LSD mechanism added with torque-sensitive mechanical LSD mechanism allows approximate coincidence between the vehicle acceleration/deceleration and LSD clutch differential limiting timings, resulting in linear LSD characteristics acquired through driver's accelerator operation. Thus, the driver can more freely control the vehicle by easily grasping behavior of the vehicle.
In addition, the steering angle sensor let the DCCD control module know the driver's intension of turning. In combination with the yaw rate and lateral G sensors, it adjusts the electromagnetic clutch LSD differential limiting force based on the running path imaged by the driver and the actual behavior of the vehicle. Thus, cornering in better accordance with the driver's image is enabled, preventing occurrence of understeer and oversteer.
For balancing between the vehicle turning performance and traction during turning in a high order, the center differential driving torque is set to have distribution ratio 41:59.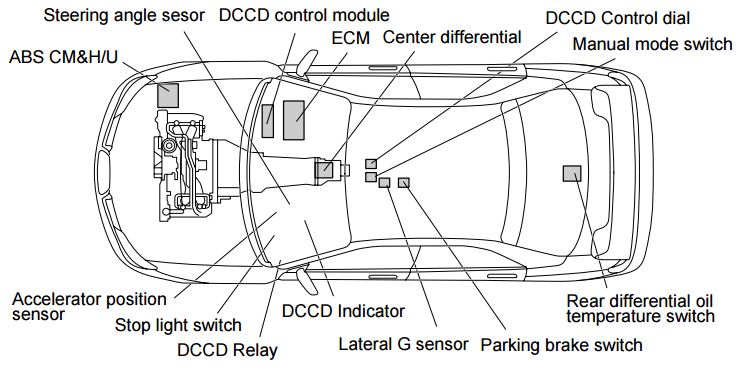 Manual mode switch/DCCD control dial
In manual mode, the DCCD control can be used to adjust the differential limiting force of the electromagnetic clutch LSD mechanism in the range from free to lock. Current settings of the control dial are displayed on the indicator in the meter.