Formula 1 Subaru Flat-12:
As the season went on, improvements were few and results stayed nowhere. Meanwhile, no success could be seen at Coloni's plant in Perugia where obviously nobody worked seriously on a new car. In May, Enzo Coloni was sacked by Subaru, but no improvement came. In June, the Japanese company withdrew completely and sold the team back to Enzo Coloni, debt free, but with no sponsors and no engines.
By the German Grand Prix Coloni had arranged a supply of Cosworth engines, prepared by Langford & Peck. An improved car also appeared in Germany. The new Coloni C3C was simply a 1989 C3 with minor changes in aerodynamics. The car was quicker, but not enough to achieve any serious results. Gachot was usually able to prequalify his car, but the main qualification was still out of reach. By the end of the season, Coloni had not taken part in a single Grand Prix.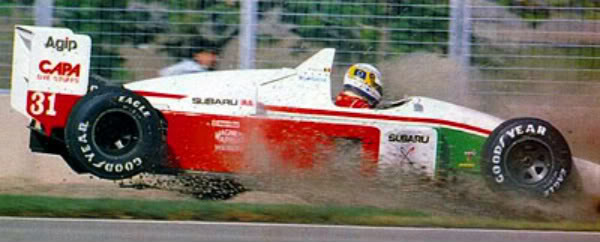 Sponsor – Subaru
Designer – Paul Burgis
Team Manager – Enzo Coloni
Engine config – flat 12
Bore x stroke – 84mm x 52.6mm
Capacity – 3498cc
Compression ratio – 11.5:1
Estimated power – 600bhp @ 12,500rpm (compare this to the Honda V10 in the McLaren which is quoted as 690bhp)
Max rpm – 13,000
Engine weight – 159kg
Fuel – Agip
Spark plugs – Champion
Transmission – Subaru 6 speed
Clutch – AP
Suspension – double wishbone, push rod, Koni dampers
Tires – Goodyear
Brakes – Brembo
Total chassis weight – 500kg