Subaru Turbocharger Explained Part 2:
Service Procedures
Here are some service procedures, including steps to properly remove turbocharger components, and tests and inspections you can perform to check component operation.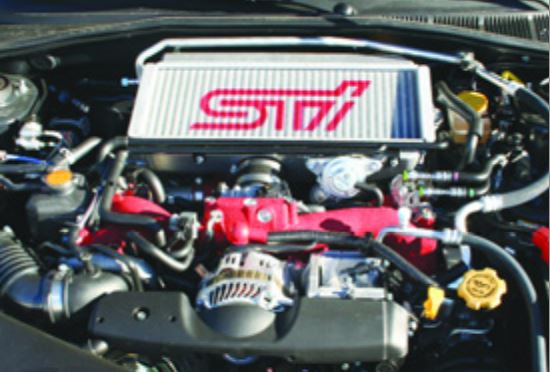 Intercooler Removal
You may need to remove the intercooler to work on other components beneath it. Removal of the intercooler must be performed carefully so that no damage occurs.
1.) Disconnect battery. Remove the two bolts that attach the bypass valve, then the valve.
2.) Remove the bolts from each end of the intercooler and disconnect the crankcase ventilation hoses from the intercooler.
3.) Loosen the clamps at the throttle body and outlet of the turbocharger.
4.) Gently move the intercooler side to side until the tension of the hoses at the turbocharger and throttle body loosen.
5.) Remove the intercooler from the engine compartment and cover the open areas with tape to prevent foreign material from entering, which could cause damage to the engine or turbocharger after re-installation.
Turbocharger Removal
1.) After removing the intercooler, remove the intercooler mounting bracket.
2.) Remove the eight bolts that secure the protective heat shield around the turbo.
3.) Raise the vehicle and disconnect the rear oxygen sensor harness, then remove the front exhaust pipe mounting bolt. Position the pipe so there is some movement.
4.) Lower the vehicle and disconnect the wastegate hose to the vacuum hose leading to the wastegate control solenoid.
5.) Remove the coolant hose from the reservoir that connects to the turbocharger.