Subaru Turbocharger Explained:
Subaru Late-Model Turbo Applications
Impreza WRX
The addition of Subaru turbocharging to the 2002 WRX 2.0L engine began the era of high-tech turbocharging for Subaru. Although turbos had been used on some models until the mid-1990s, the new systems are more sophisticated. From 2002-2005, the 2.0L WRX engines were turbocharged. This changed for 2006 and later, when the 2.5L engines became the sole standard for turbos.
Baja
2003-2006 Baja 2.5L Turbo models were fitted with turbos.
Forester
2004 and 2005 Forester XT and XT Premium models were equipped with the 2.5L engine and turbos. For 2006 and 2007, turbo models are labeled XT Limited and Sports XT.
Outback
Outback joined the Subaru turbo team in 2005 with the XT models, all featuring the 2.5L engine.
Legacy
GT 2005 and later Legacy GT Limited and Spec.B models are also fitted with turbos.
Subaru Turbocharger Explained:
WRX STi Intercooler Water Spray System
Starting with 2004 models, the WRX STi incorporates a water spray system to help cool the intercooler, thereby further cooling the intake air.
Incoming air from the hood scoop flows through and over the intercooler to cool the unit. A water spray nozzle is mounted on the bottom of the hood scoop and, when activated, sprays water in a pattern to cover the full width of the intercooler. The resulting evaporation provides additional cooling to the air intake air as the water is pushed through the intercooler fins by the hood scoop.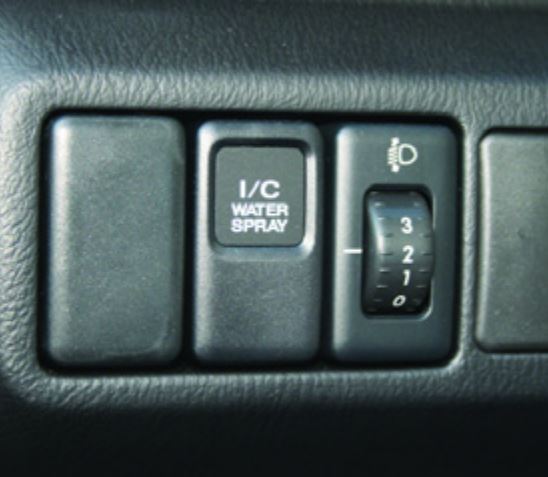 The intercooler water spray is activated by a button control switch mounted to the driver's left, near the headlight leveler control. It sends a signal to a timer, located on the A pillar post, behind the glove box.
Low water level in the reservoir is indicated by a warning light below the speedometer on the combination meter. The water reservoir is located in the right side of the trunk.
Note: Only distilled water should be used to avoid blockage of the intercooler fins by mineral deposits, which can also plug up the spray nozzle. In areas that experience freezing weather during the winter, the water reservoir should be kept no more than half full. A full reservoir would leave no room for freezing water to expand and could split the tank.