Turbo: STi/WRX VF Series Turbocharger breakdown:
IHI VF Series
The numbering on both the VF turbos are for reference purposes and not necessarily indicative of its 'performance'. On GC8/GF8 WRX STi, the VF turbos have gone 'smaller' from VF22 to 23, 24, 28, 29 while the release of the New Age STi GDB saw the introduction of a new breed of VF turbos with a bigger compressor wheel namely, VF30, VF34, VF35 for example. The previous VF turbos (VF22,23,24,28,29) have been ball bearing cored while the later ones (VF30, VF35) are Divided Thrust Bearing type core, with the VF34 being a Ball Bearing.
IHI VF22
(455cfm at 18.0psi, 250-325whp, Bolt-On)
The VF22 has the largest potential for peak horsepower. In other words, in the IHI model range, the VF 22 supports the highest boost levels. With its significantly increased turbine housing, the VF22 turbo is capable of producing upwards of 310 whp* on an EJ20. The downside of this turbo is the older center cartridge design and larger compressor housing, which makes for slower spool up but more top-end than the other VF series turbos.
This turbo is the best choice for those who are looking for loads of top end power. The top end power however, does not come without a cost. The VF22 spools significantly slower than the rest of the IHI models due to the larger P20 exhaust housing and is much less suited for daily driving than some of the other models. Although the largest VF series turbo, the VF22 is not quite optimal for stroked engines or those who wish to run more than 20PSI of boost.
The VF22's compressor is rated at 35 lbs/minute. The VF22 was designed with the EJ20 in mind but because it has the biggest turbine in the IHI family it can be use on the EJ25 with a slight increase in performance. The VF22 is good for around a realistic 300 to 315 WHP on a 2.0L. The IHI VF-22 turbo is the largest of the VF-series turbos.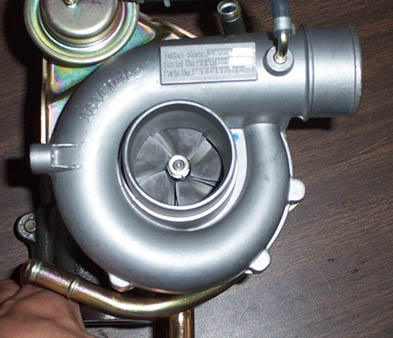 IHI VF34
(440cfm at 18psi, 250-325whp, Bolt-On)
The VF34 is nearly identical to the VF30, with the same exhaust housing and compressor. However the VF34 goes back to the ball bearing design, and in doing so achieves full boost approximately 500RPM sooner than the comparable VF30. The VF34 is the most recent IHI design and as such costs slightly more than its counterpart.
Top end performance and maximum output are identical to the 30. The VF34's compressor is rated at 35 lbs/minute but the turbo suffers from the same turbine restrictions found with the VF30. The VF34 was designed with the EJ20 in mind and will not have the same performance on an EJ25. The VF34 is good for around a realistic 290 to 305 WHP on a 2.0L.