Maintenance: Subaru Periodic Maintenance Part 4:
Steering and Suspension:
Steering and suspension parts are a lot like the brake system components. Their proper operation is vitally important to the safety of the driver and his passengers, but it is very difficult to determine how long it will be before any of these components will require attention. That's why an inspection of all steering and suspension components is required at 15 month/15,000 mile intervals. Changes to these systems may be too gradual for the driver to even notice, leaving it to you to ferret out and correct any wear or damage that has taken place.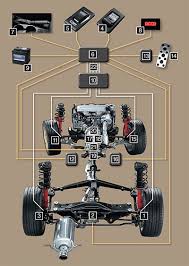 We won't cover all of the steering and suspension checks here. There's too much variation between different Subaru models to do an adequate job. What you're looking for is anything that reduces the original precision of the steering and suspension systems. Perhaps the steering has a little too much play in it or the shocks and struts don't handle the bumps in the road as well as they did when new. Specific tests for the Subaru model you're working on can be found in the service manual.
Check the power steering system for dampness or other signs of fluid leakage. The power steering pump reservoir is a good place to start. If the reservoir is low, the fluid has probably leaked out, as it has no place else to go. Approved fluids for the power steering system include Dexron II, IIE or III.