Nice Price or Crack Pipe? 1987 Turbo GL-10 Wagon:
FOR SALE: A very rare 1987 Subaru GL-10 4WD TURBO Wagon w/5 Speed Manual & Digital Dashboard.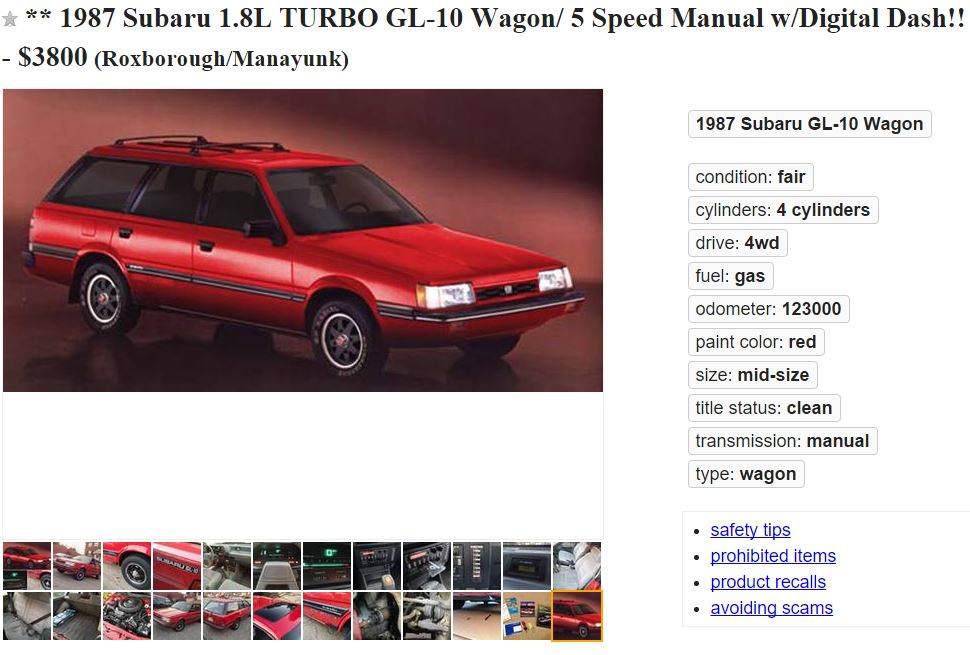 I only purchased this car about a month ago. It came from the Allentown PA area and had one original owner (me being the second). It needs some work and I do not have the time to fix it up before winter as I originally hoped. With another Subaru project car already in the garage, sadly this one must go. I am hoping to pass this on to another Subaru enthusiast who has the time to make it perfect again.
The car runs and drives great, shifts smooth and even has a little TURBO light on the dash when you give it some extra gas. All of the digital gauges, warning lights, power windows/mirrors, am/fm/tape player, and other electronics work perfectly. The AC blows cold and the HEAT is hot. The interior is clean and maybe a 7 or 8 out of 10… for its age. I noticed that the frame has had some previous rust repairs and will need some additional work around the frame rails.
The engine is clean and runs great, but pretty much leaks from everywhere. The front axle boots are busted and will need to be replaced (new axles are included in sale). I have the original owners manual and "added security" paperwork, the 1987 Subaru sales catalog, the original keys as well as some extras, and a Haynes Repair Manual. The car will be detailed with a full tank of gas at time of sale!
I am only asking $3800 or best offer. I have the title in hand! If interested in seeing the car or have an questions, please contact me by email. Thank you!
Fully loaded with every 80's Subaru option including:
* 4WD
* 5-Speed Manual
* Turbo charged
* AM/FM Stereo w/Tape Deck
* Adjustable Steering Wheel
* Air conditioning
* Cloth Upholstery
* Cruise control
* Digital Clock
* Front Bucket Seats
* Interior Hood Release
* Interval Wipers
* Power Mirrors
* Power locks
* Power windows
* Rear Defroster
* Rear Window Wiper
* Steering Wheel Controls
* Sunroof
* Tachometer
* Tilt Steering Column
* Trip Odometer
* Vanity Mirror(s)
[poll id="2″]