Wheel Arch Height and Wheel Alignment:
Wheel arch height (vehicle ride height) as well as front and rear wheel alignment must be inspected at 30 month/30,000 mile intervals. Specifications are contained in the service manual. Toe is the only possible alignment adjustment to the front and rear suspensions. If camber, caster, steering angle (front) or thrust angle (rear) are out of specification, inspect the vehicle for damage to suspension components or other vehicle damage.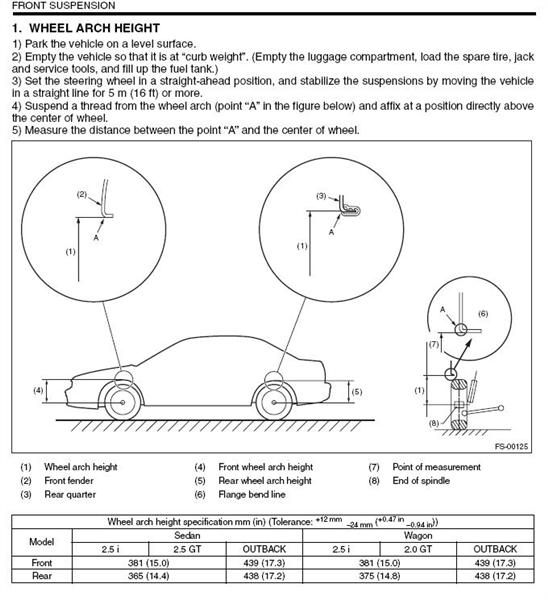 This would also be a good time to check for any obvious damage to any other suspension components, tightness of bolts and nuts and the condition of other undercar components.
Front and Rear Wheel Bearing Lubricant:
One of the oldest maintenance procedures on older vehicles was "remove and repack wheel bearings." The procedure involved disassembling the front wheel bearing assemblies, cleaning them, packing them with fresh grease, then reassembling them. The wheel bearings on Subaru vehicles are sealed, and do not require this regular procedure. However, the wheel bearings must be inspected at 60 month/60,000 mile intervals.
Rather than disassembling the wheel bearings to clean and inspect them, this procedure involves measuring the amount of axial play that is present in the wheel bearings. If the play exceeds specification, this indicates the bearings may have worn. If the bearing passes the play test and is not making any noise, no further disassembly is required. The next inspection is 60 months/60,000 miles later, unless a problem develops before then. Specific information on testing the front and rear wheel bearing lubricant can be found in the service manual.