The following procedure explains removing and replacing spark plugs on a Subaru Impreza STi. The original instructions below specifically refer to fitting Denso Iridium spark plugs that are one step colder however these procedures are generic for OEM plugs also. Please click the thumbnail pictures below for a full size version.
The author indicates this took around 1 hour to complete the first time, perhaps half that next time. Right, off you go you are being timed!
Procedure
Remove the battery and windshield washer fluid reservoir (Step 1)
This is simple, just four bolts holding the battery and two bolts (<< seen in step one), a hose and a clip (<< seen in step 1.1) holding the washer reservoir in.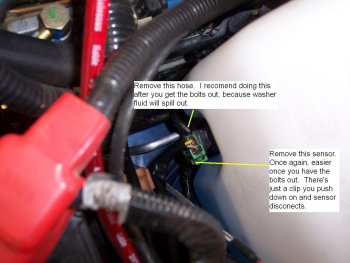 Removing intake and assembly (Step 2)
Note: the author can break this down further as he doesn't have the stock intake, instead the K&N typhoon is shown. The stock intake is very easy just a couple of bolts, clamps etc. (<< steps 2 and 2.1)