Knock Sensor diagnosis for Subaru:
When you have to diagnose an engine ping, make sure you ask the right questions of what is really happening to the engine.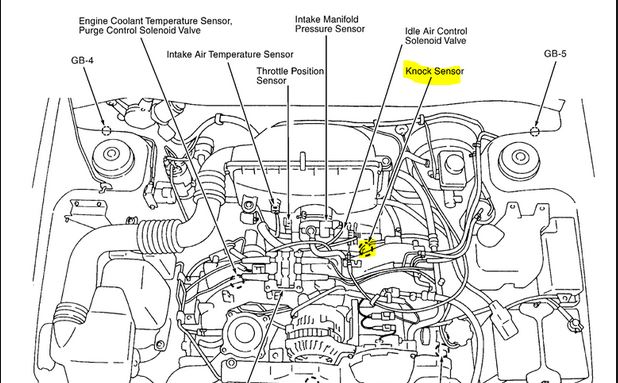 Before Repair:
1.) When do you hear the engine ping (hot, cold, engine load, uphill, etc.)?
2.) How long does it last (seconds)?
3.) What type of fuel is in the vehicle (is it the right fuel, turbo/SVX)?
4.) When did this condition start (since new or at what mileage)?
When Repairing:
1.) Always duplicate the condition first (maybe it's a normal condition).
2.) Always check the engine with the select monitor. Often a broken knock sensor will give a OBDII code. Look if there are other codes that are being thrown as well. This way you can figure out if it is not the knock sensor causing the issue.
3.) Always check the fuel quality at the filter (dirt, water, etc.).


Standard Motor Products KS281 Knock Sensor

HOT SYSTEM™ New Knock Sensor for Subaru Knock Sensor Forester Legacy Impreza Outback 2.2L 2.5L