Turbocharger: How to choose a Turbocharger for your Turbo Subaru:
Now you should have a solid foundation to research which type, brand, and size of turbo will suit your needs. Remember that research is critical and you shouldn't choose the "turbo of the month" as many seem to do. A 500HP capable turbo can be an absolute dog to drive in stop and go traffic. Likewise, a turbo with Insta-Spool® will not net you an 11 second time slip. Many of the features here are described as smaller = less power, fast boost and bigger = more power, slow boost. The same rules apply to turbos overall. The goal is to find a happy medium which will meet most of your desires.
This article should not your sole source of information though and you should consider the following additional research activities when considering an upgrade:
a. Compressor map plotting and interpretation (MHI and Garrett particularly)
b. Your tuner's advice and experience
c. Your turbo vendor's advice and experience
d. Corky Bell's book "Maximum Boost: Design, Testing, and Installing Turbocharger Systems". Considered by many to be the Alpha and Omega of turbo information.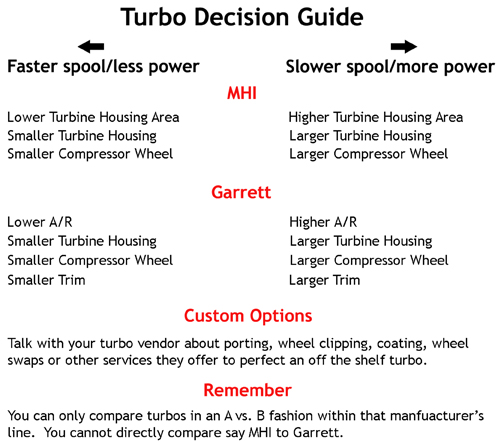 Brand new turbos:


SUBARU IMPREZA VF43 TURBOCHARGER

Subaru 14411AA700 Turbocharger
Brand new VF39 Turbo:


Subaru 14411aa5729L Turbocharger