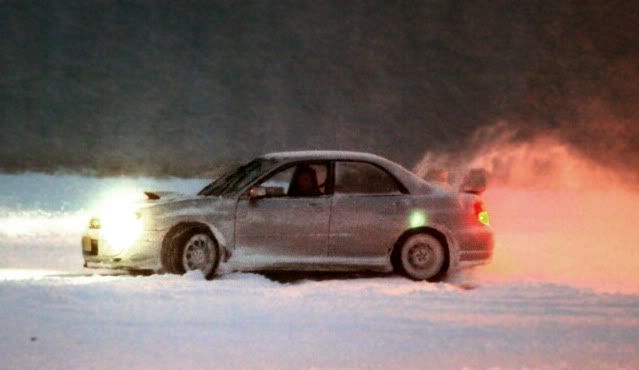 Second generation (2001 – 2007)
Second generation (GDB-F)
Production 2001-2007
Body style(s) 4-door sedan
4-door station wagon
Engine(s) 2.0L H4
2.5L H4
Transmission(s) 6-speed manual
5-speed semi-automatic
Wheelbase 2004-05: 100.0 in (2540 mm)
2006-08: 99.4 in (2525 mm)
Length 2004-05: 173.8 in (4415 mm)
2006-08: 175.8 in (4465 mm)
Width 68.5 in (1740 mm)
Height 56.3 in (1430 mm)
Curb weight 3,296 lb (1,495 kg)
Related Subaru Impreza
Subaru Forester
Subaru Impreza WRX
Saab 9-2X
In 2001, the Impreza line received a complete update. The chassis was stiffened so that it had 120% torsional stiffness increase. The WRX STi gained 17″ x 7.5″ alloy wheels over the previous 16″ x 7″ wheels. The 5 speed manual transmission (reputed to be one of the car's weakpoints) was changed to an STi engineered 6 speed manual transmission. The engine was retained from the Version 6 STi and still retains the semi-closed deck block and is still labeled as the EJ207, However, the turbochargers are IHI models. The interior was updated with a STi logo on the gauge. The STi's tachometer also has a red shift light. The STi's and optioned Type RA STi have received Brembo 4 piston front and 2 piston rear brakes while the bare-bones Type RA STi still carried the Subaru 4 piston front and 2 piston rear brakes. Externally, the STis had larger hood scoops and had foglight covers with STi embossed on them. The DCCD was updated so it can work with anti-lock brakes. During braking, when the ABS is on, the DCCD will set itself to open-mode (no locking).
The version nomenclature was dropped from the name. Japanese and other auto-enthusiasts often refer to the chassis as GDB/GDF (the STi has a 'B' or 'F'(for USDM models) where as the regular WRX had an 'A'). The fourth character of the VIN gives the revision (A to F where G is the 2007 version).
For quick and easy reference to the different exteriors, Subaru Impreza owners use nicknames based on the headlights. Each relates to a creature that has similar looking eyes: 2002-2003 are 'bug eyes' / 2004-2005 are 'Tear Drop' or 'blob eyes' / 2006-2007 are 'hawk eyes'.