Header Aftermarket Turbo Subaru FAQ
The primary purpose of an aftermarket header on a turbocharged Subaru is to remove or replace the stock exhaust manifold with a better flowing unit.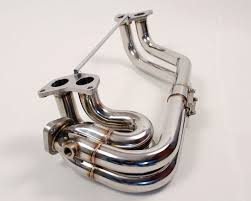 HP gain is 15HP and 20TQ. This figure is highly debated as different manufacturers use different dynos with different cars with different levels of mods. It also varies because some headers incorporate an uppipe into their design. This makes it nearly impossible to compare the gains of a header without an uppipe vs. a header with an uppipe.
Which manufacturer is best? This topic is highly debated. There have been no reported consistent "bad" headers on the market. Obviously, there may have been bad pipes sold, but not enough to report as "bad" overall.
Where can I find headers?


Subaru WRX STI Header Prosport Unequal Length Stainless Steel Header

Perrin Subaru STi /WRX Header Equal Length Big Tube

AP WRX/ STI Stainless Steel Unequal Length Header w/o Uppipe

Invidia HS05SW1HDR Racing Header for Subaru WRX STI/Legacy GT

Agency Power (AP-GDA-175) Unequal Length Header, Stainless Steel

Perrin PSP-EXT-050 04-08 STi /LGT/FXT/06-08 WRX (06+ WRX requires modification to oil cooler) Header (02-05 WRX Requires STi Oil Pan)

TOMEI 193082 Headers
What differences are there with headers? The main difference is exhaust piping length. Headers are made to be unequal length or equal length. Unequal means the piping on the driver's side of the engine will be longer than the passenger's side. Equal means the piping length is equidistant from the engine outlet to the header outlet for all piping.