Subaru WRX and STi Exhaust general info:
The primary purpose of an aftermarket exhaust is to remove or replace the stock catalytic converter(s) with a better flowing unit. It also increases the exhaust diameter for better flow. The term "aftermarket exhaust" can be broken down into the three main types:
1. Turbo back exhaust (TBE) covers items 1-4 as described below.
2. Cat back exhaust (CBE) covers items 3&4 as described below.
3. Axle back exhaust (ABE) covers item 4 as described below.
The stock WRX Subaru exhaust consists of:
1. Downpipe (with cat) | 2. Midpipe (with cat) | 3. Rear Exhaust Pipe | 4. Axle Back Muffler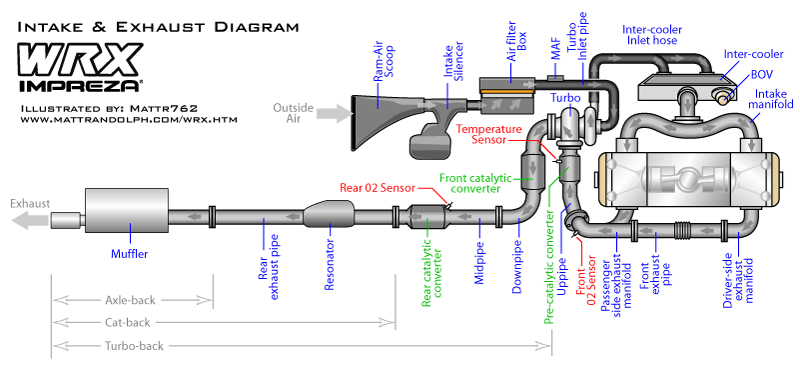 Keep in mind that the above information is catered to the 2002-2005 WRX and is likewise applicable to all years of the STi, though there are slight variations. For example, the STi (all years) has a catless uppipe and the 2006+ WRX has a one piece downpipe/midpipe.
HP gain is dependent on the type of exhaust chosen. TBE gains are 20-30HP. CBE gains are 5-15HP. ABE gains are 5-10HP. These figures are highly debated as different manufacturers use different dynos with different cars with different levels of mods. It also varies because exhausts use different amounts of catalytic converters or are catless.
What about overall fitment between the WRX and STi or different model years? All OEM or aftermarket exhausts designed for 02-07 WRX/STi will fit either the 02+ WRX sedan/wagon or 04+ STi. Occasionally, you will have a slight fitment issue with some models (moreso if your car has the optional rear differential cover) that usually get be fixed via hanger adjustment, longer exhaust hangers etc. 06+ models have fitment issues with some exhausts (mainly the muffler portion) due to the new rear diffuser.
I have an 06+ WRX, is the downpipe the same? No. The 2006+ WRX has a unique exhaust in that it's downpipe is both the downpipe and midpipe sections of the "older" exhaust. This means you must use a "long" downpipe to bolt up to the rest of your exhaust system. A full TBE will fit fine, but when replacing just the downpipe, you must use a long downpipe. Check with your Vendor for other possible fitment issues prior to ordering.