2004 – 2007 USDM STi breakdown: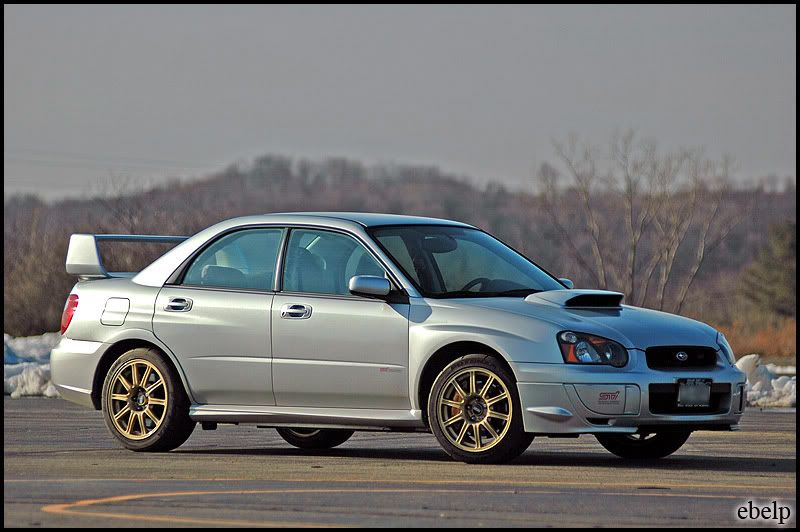 Rev. D (2004)
In 2004, Subaru of America announced it would sell the WRX STi. Subaru Tecnica International's president said in an interview with Road & Track magazine that he wished to beat the Mitsubishi Lancer Evolution in the US. Thus, each iteration of the US-spec WRX STi is essentially the same as the respective J-spec STi Spec C. All part numbers matched up, including the part-numbers for the glass windows and dampeners.
However, instead of the EJ207, the USA receives the first EJ257, a 2.5 liter version of the EJ207. Unlike the EJ207, it features hypereutectic cast pistons as opposed to the forged pistons in the EJ207. The steering rack is the standard STi's 15.2:1 instead of the Spec C's 13:1
2004 – 2007 USDM STi breakdown:
Rev. E (2005)
As with the Japanese-spec C models, US-spec STis received additional rear fender flaring in order to allow an increase in wheel size. The wheel size went from 17″ x 7.5″ to 17″ x 8″. In accordance with the increased wheel width, steering lock-to-lock turns have been reduced. Wheel hub strength was improved. The P.C.D. was changed from 5 x 100 to 5 x 114.3. The Suretrac front LSD in the 04 model was replaced with a helical unit, the rear differential remains the same clutch type unit. Torque split is set at 35/65. In the interior, the Stereo became standard. The badging has been revised and different look was given to the steering wheel, shift knob, HVAC controls, and center console.
2004 – 2007 USDM STi breakdown:
Rev. F (2006)
The US-spec STIs receive the same face lift as the Japanese-spec STIs. Mechanically speaking, the DCCD (Driver Controlled Center Differential) and the engine mounts have been changed. Like the Japanese-spec STIs engine mounts were changed from metal to liquid-filled plastic mounts to reduce vibrations into the car's cabin. On the largest Impreza forum, North American Subaru Impreza Owners Club (NASIOC), 2006 owners have had issues with these plastic engine mounts.
The manufacturer will replace them, under warranty, if broken, with the 2005 rubber and metal mounts. Later 2006 vehicles were equipped from the factory with 2005 mounts. The center differential is updated with the addition of a mechanical limited slip mechanism to supplement the electromagnetic DCCD. The torque split is changed to 41/59. The 2006 STI weighs approximately 3,350 lb (1,520 kg).