Oil Change 04-07 Subaru WRX/STi DIY:
5.) Once it is warm your ready to start draining! Go ahead and position your oil pan about 3-5 inches to the right of your drain plug . The oil comes out quite quick and quite a lot. It may come out so quickly that it might spill out of your oil pan onto the floor. Watch out this is the messy part of the oil change.
Grab your wrench and a 17mm socket and start loosening the drain plug. Make sure you are wearing gloves at this point because once that plug comes off it can get quite messy on your hands. Once you break the plug loose, you can finger loosen the plug out until the oil starts pouring out as seen in the following picture. At this time, go ahead and pop the hood and remove the oil cap and oil dip stick. Removing these further helps the oil change process.
Go ahead and let it drain for a good 10-15 minutes. Once the oil starts to just drip from the oil pan, go ahead and grab your oil filter wrench and start to loosen the oil filter. Once you have broken it loose, move your oil pan under the oil filter. Again, make sure you are wearing your gloves as not to get your hands messy. Keep unscrewing the filter until it comes off. Once it has been removed let the oil drain for another 5 minutes. This can be seen in the following picture.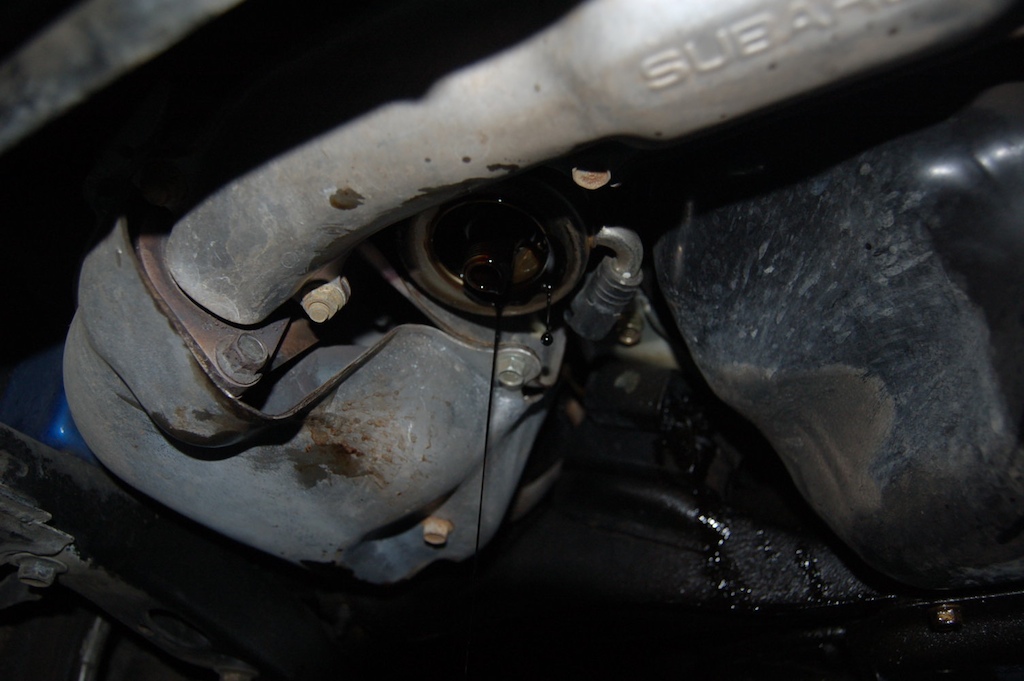 6.) Now that the oil has been drained, it is time to add your new oil filter and replace the drain plug. Before you put your new filter on fill it up with oil then install it. The drain plug as a copper crush washer on it. There has been discussion on whether or not you should replace it or not. I have done 3 oil changes and not replaced it yet and have had no leaks or problems (if you would like to replace it, the part number is 11126AA000)