5.) You can come out now, and bring the plug with you to clean up and swap the washer. The plug is magnetic and will probably have small shavings of synchromesh (your gears) stuck to the top. Wipe the shavings off, then fit the new washer which should be similar
to the old one, just slightly less squashed.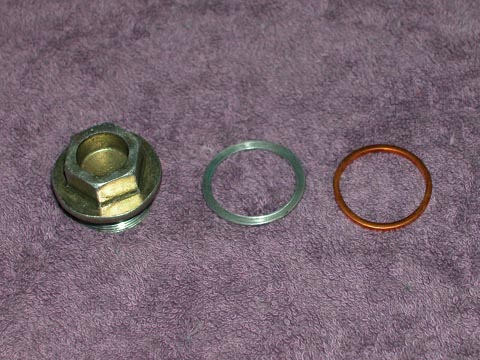 6.) Give the gearbox a few minutes to drain, then refit the plug and new washer. Do it up tightly and wipe any drips away.  Now its time to put the new transmission oil in. Grab your funnel, and 2 feet of tubing. Rinse it well to ensure it is clean and free from sediments.
Slide one end of the tubing over the funnel outlet and the other into the dipstick hole.
Grab the transmission oil and have a rag handy.
Pour the transmission oil in slowly, if it spills on your turbo or dump pipe clean it up quickly or it will turn into a smelly smoldering mess next time you drive.
7.) Replace the dipstick and check the transmission oil level. Check under the car to make sure the plug isn't leaking.
8.) Now take your Subaru for a drive!