6.) Now you are ready to remove the intercooler. Using both hands to do this, wrap one hand firmly around the fork in the piping of the intercooler underneath it, and the other use to guide the top of the intercooler past the A/C lines along the firewall as you tug hard on the intercooler with the hand underneath. Just pull up hard it will come out if you guide it carefully from the top first. Once it clears the A/C lines its already out. Put it down somewhere safe and soft so you don't damage any of the fins or pipes.
7.) Now that you have the intercooler out just take a minute to see what the engine bay will look like when you go FMIC. And notice the stock plastic pitch stop mount directly under where the intercooler was.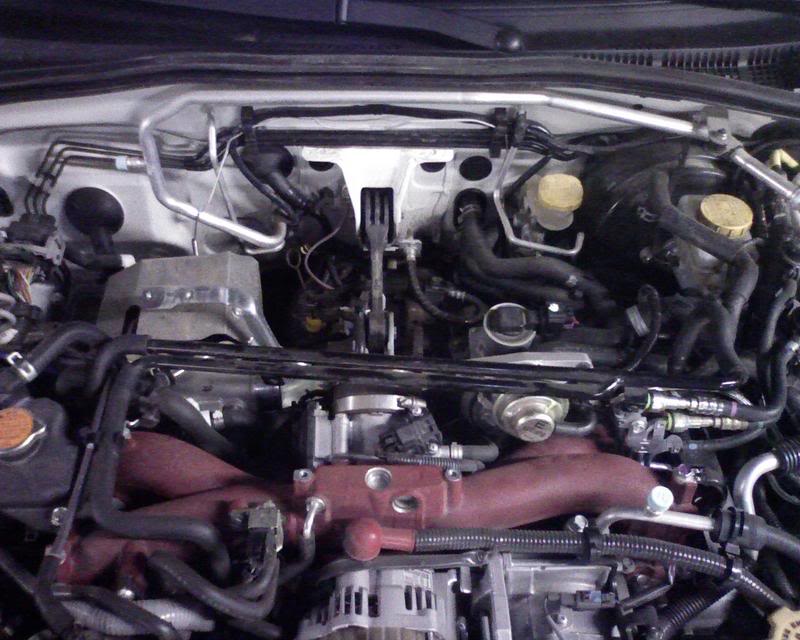 8.) Now take the 14 mm socket and wrench and remove the nut and bolt that holds the pitch stop mount to the back of the engine/transmission. Then remove the top bolt which holds the mount to the firewall. You may need to loosen the ground right next to top bold and turn the wire so its out of the way.
9.) Finally you are ready to install the new Pitch Stop Mount. Just threading the bolts by hand do both of them before you torque them down, so its in the right tension free position. After you torque them down reinstall everything and your done.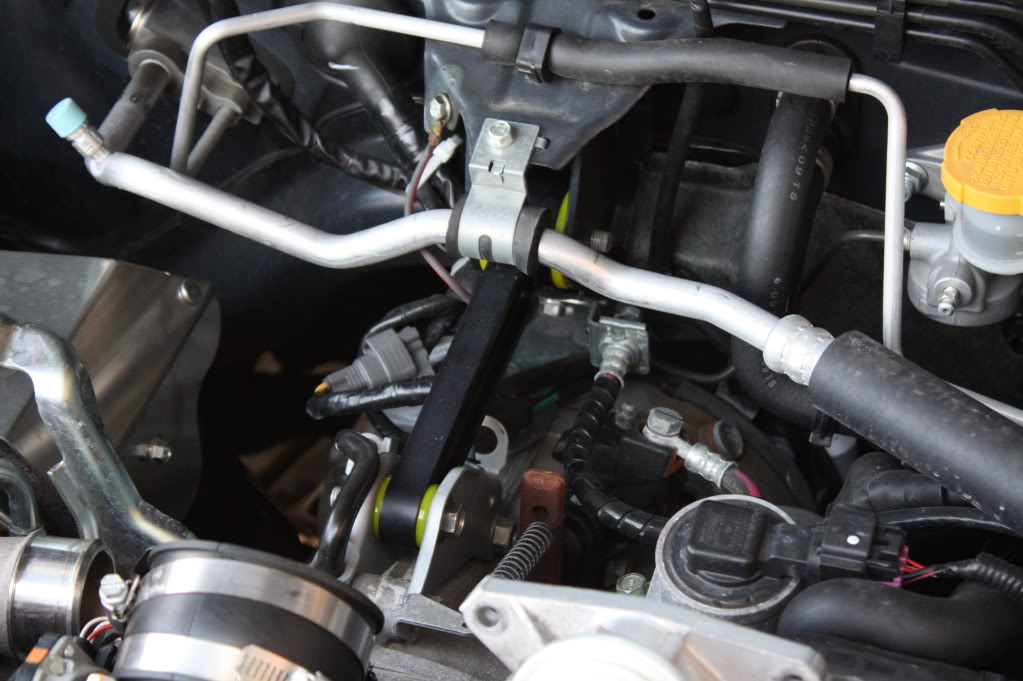 After the install the start sounds louder and you can feel a little more of the engine in the pedals and in your seat in general. I noticed the difference in acceleration. It's a lot more crisp and so was the shifting.
Aftermarket Pitch Stops:


Perrin 02-11 Subaru Impreza / 02-12 WRX / 04-12 STi Pitch Stop Mount – Black

Kartboy KB-PITCH Pitch Stop Motor Mounts

Agency Power AP-GDA-165 Stop Mount