Legacy World Speed Records:
JANUARY 1989 – ARIZONA TEST CENTER
January 2
Weather for the start day was cloudy with some rain, 2 C – 18 C (36 F – 64 F), and a light breeze. Because of data logger troubles, Subaru was granted a start-time extension of 30 minutes from the scheduled 11 a.m. start.
No. 1 red car started at 11:27:09 with driver Makoto Shikata
No. 2 white car started at 11:27:46 with driver Noriyuki Koseki
No. 3 yellow car started at 11:28:22 with driver Mamoru Konita
Each car had three nine-hour shifts on the 9.182 kilometer (5.7-mile) Arizona Test Center oval, with each shift overlapping an hour and having two drivers and 14 mechanics (along with three backups). USAC rotated six-person teams every 10 hours to monitor timers, do maintenance checks, and inspect the course. The cars ran continuously, stopping every two hours for driver changes, system checks, and refueling (the cars had 37-gallon, quick-fill tanks).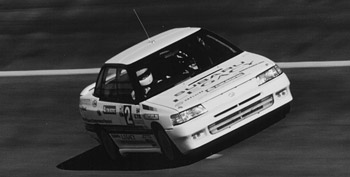 January 3
Cars ran in good form; average speed was 226km/h (140.4 mph). All three cars broke Porsche's international records for 12 hours, 24 hours, and 5,000 kilometers.
January 4
Strong rains began before dawn, usually reducing vehicle speed to approximately 160km/h (99 mph), but 4WD allowed speed maintenance of 220km/h (136.7 mph). The cars broke Porsche's international 5,000-mile and 10,000 kilometer records.
January 5
All three cars ran at 230km/h (142.9 mph) and broke Porsche's international record for 10,000 miles.
January 6
The cars continued driving through strong winds and scattered showers.
January 7
The No. 2 car broke Alfa Romeo's 25,000km record at 1:57:33. All cars had 25,000km periodic maintenance.
January 9
All cars passed 40,000 kilometers, and strategy was revised. The No. 2 car was selected as the leading contender for the new world record. The No. 1 and No. 3 cars dropped speeds below 230km/h (142.9 mph), while No. 2 car remained above 230km/h. On the 9.182km (5.7-mile) course, that meant the slower cars were lapped every two hours, which proved helpful for communication between the drivers.