Valve Adjustment Tool and
Adjustment Procedures:
Each shim bucket has a notch cut into its edge to facilitate shim removal. With the shim re-placer tool locked into position, use a dental pick to force the adjusting shim out of its slot in the shim bucket. Use a needle-nosed pliers or magnet to lift the shim clear of the shim bucket and camshaft.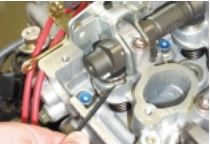 Use a micrometer to measure the thickness of the removed shim. Here's where your earlier clearance measurements come into play. To determine the required replacement shim thickness use the following formulas for intake and exhaust valve shims.
For intake valves:
S = (V + T) – 0.20 mm
For exhaust valves:
S = (V + T) – 0.25 mm
S equals the new shim thickness to be used.
V equals the measured valve clearance before adjustment.
T equals the original shim thickness.
Let's plug in some numbers to see how it works. Let's say our measured valve clearance for an exhaust valve was 0.30 mm. That's more than 0.02 out of specification, so an adjustment is required. When we remove the existing shim, we find that it is 2.38 mm thick.
S = (0.30 + 2.38) – 0.25
S = 2.68 – 0.25
S = 2.43 mm
So the replacement shim (2.43 mm) is exactly 0.05 mm thicker than the original shim. This will reduce the valve clearance by 0.05 mm, which will put it exactly at 0.25 mm, the recommended clearance.
When reinstalling the adjustment shim, always position the shim so its number side faces away from the cam lobe. This will keep the cam lobe from wearing the numbering away, which will make it easier to identify the shim the next time it needs to be removed.
As the old saying goes, reassembly is the reverse of dis-assembly. There are no special tricks along the way. Do it like the carpenters do measure the shim twice, replace it once.