Timing Belt and Water Pump Replacement Subaru WRX/STi:
12. Remove the timing belt.
13. Remove the hydraulic belt tensioner.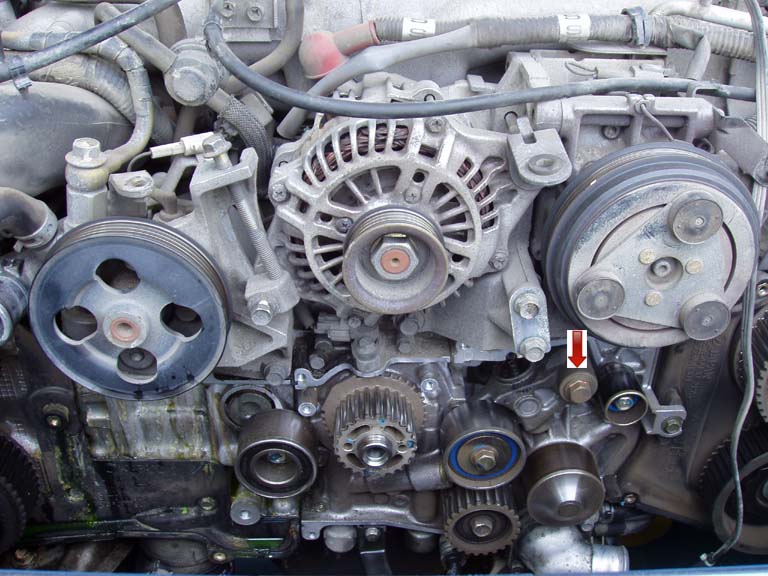 14. Compress the hydraulic belt tensioner pin. The manual says to use a vertical press, but I did it with a C-clamp. You're supposed to do it over 3 minutes time, so take your time and compress it slowly. Once you get it down, use a 2mm allen wrench to secure the pin in place.
15. Remove the water pump outlet hose, thermostat cover, and then the water pump. Note that some of the bolts are hidden from view.
16. Clean the mating surface on the engine. Put your new thermostat into your new water pump. Make sure you transfer the rubber seal on the side of the old water pump to the new water pump. The arrow shows where it should go, though I forgot to put it on. Your new water pump should come with a new gasket. Connect your hoses first then push a few bolts through and put the gasket onto it. Then lightly thread the bolts in. Make sure you get all the bolts in as two of them are out of sight when the water pump is mounted.
17. Give the engine a good cleaning and clean off all the idlers and sprockets. Feel the sprockets to make sure there are no burs are sharp points to cut the belt.
18. Reinstall the idler to 29 foot lbs. Use a torque wrench.
19. Go find a buddy for the extra hands. First I lined up on the crankshaft. Place the belt tensioner onto the belt to help hold it in place. It's easier if you don't install the tensioner yet. Note that your new belt will have lines that correspond to the timing marks.