Rear Wheel Bearing:
Break torque on the two bolts that are on your strut but leave one in to hold it for now. Now at this point, double check everything to make sure everything is disconnected. Make sure your axle nut is off and remove the last bolt holding from your strut. Now just wiggle the whole assembly out of there slowly. Don't let your axle just rest down on its own, place something below it like a piece of wood to support it.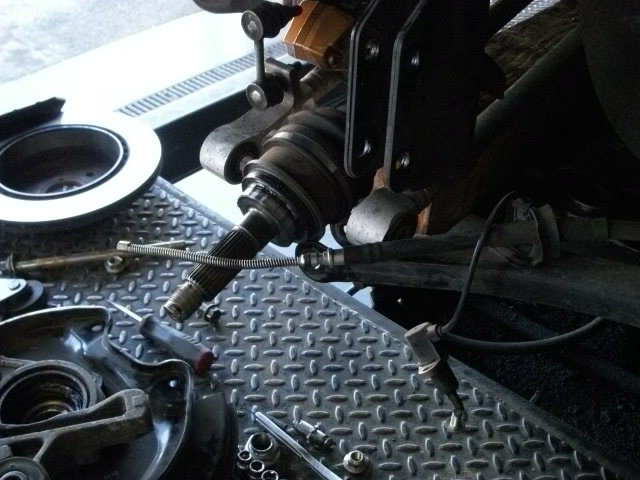 Look behind the housing and remove the oil seal. (Make note of which way it goes in). Now make your way to a press.
(IF YOUR USING A PNEUMATIC OR HYDRAULIC PRESS, KEEP A GOOD EYE ON THE GAGE AND DO NOT EXCEED EXTREME PRESSURE. On the press I was using, I made sure I did not go above 10-15 tons)
You need to press your Hub out first (Inside Out) Use a socket that is a close diameter to your hub. I used a 27mm deep well socket. Since the bearing is two tapered roller bearings, in one, one side will be pressed into your hub still. You need to press it out and use a bearing separator. Remove the oil seal. Take a look from the front side and you will see a snap ring. You will need to remove that. I used a medium sized flat tip screwdriver to compress and pry it out.