Deatschwerks injectors install on a Subaru STi w/ a FMIC:
We put together this DIY since there are some more specifics when working with the  Deatschwerks injectors on a 2006 STI with a FMIC. YMMV and as with all DIY's, you do this at your own risk. I will not be responsible for any damage you incur doing this yourself. (but seriously, it really wasn't 'that' hard.)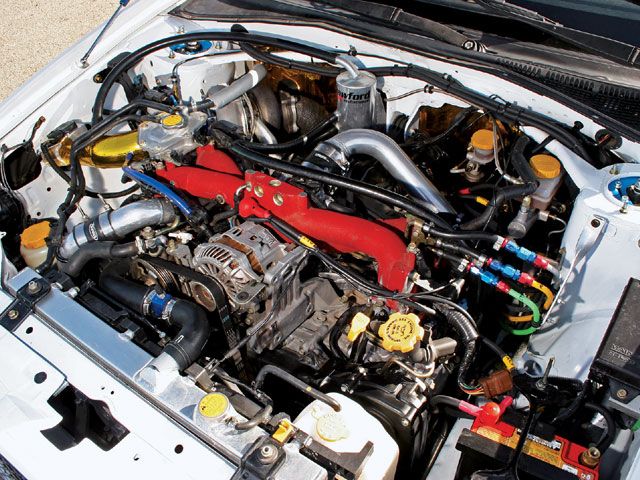 Tools you need:
– 1/4″ Ratchet
– 1/4″ 6″ extension
– 1/4″ U-Joint/Wobble adapter
– 10mm Socket
– 12mm Socket
– 12mm open/box wrench
– 12mm ratcheting box wrench
– T-25 Torx Bit or driver
– side/wire cutters (for removing zip-ties)
– long nose pliers (for opening hose clamps)
– wood handled rubber mallet (round handle)
Optional (nice to haves)
– Magnetic Tray (to keep from losing bolts/screws/etc)
– "Antenna" Magnet (to get 'dropped' bolts/screws/etc)
– rags for cleaning up spilled anti-freeze
Provided by Deatschwerks injectors:


02J-00-0740-4 Set of 4 740cc Side Feed Injectors for Subaru STI EJ25 04-06, Legacy GT EJ25 04-06, Impreza 2.5RS 97-98

DeatschWerks Top Feed 1000cc Injectors for WRX/STi/LGT

DeatschWerks  (02J-00-1100-4) 1100cc/min Fuel Injector, (Set of 4)
1. Let the car sit overnight or relieve the fuel pressure by unplugging the fuel pump (green plug in upper right area of passenger footwell). (NOTE: I just let my car sit overnight)
Deatschwerks injectors:
2. Start on the driver's side (it's easier).
a) Remove negative battery terminal.
b) Remove the two 12mm bolts holding in the plastic bracket to the intake manifold and clip the two zip ties keeping the harness in the plastic bracket.
c) Now remove the plastic bracket (it will take a patient/creative rotation to get it out from the hoses/harnesses) and you'll be able to clearly access the torx screws holding down the little bracket that holds down the injectors.
1.You may also want to unplug the blue connector and the Crankcase breather hose (regular clamp, not the crimped one) to provide maximum access to the injectors.
d) Unplug the injector, remove the torx screw (Proper size Torx Bit: T-25), swing the bracket up and out of the way, and pull the injector out. You will need a small screwdriver with a sharper tip to pop the injector up. Just be careful not to damage the injector seat or the injector housing / Rubber O-ring
3. Now, get one of your newly purchased Deatschwerks injectors. Open the tube of Super Grease (should be provided) and generously lube the lower O-Ring, and moderately-sparingly lube the upper O-Ring. ONLY LUBE the O-RINGs, try not to get lube on the injector screen or filters
4. Gently insert the Deatschwerks injector. You will want it to sit on the upper O-Ring, flush to the injector port. Then use the bottom of rubber mallet wooden handle to push the Deatschwerks injector in until it seats. There will be a noticeable but gentle "pop" not a sound but a "feel" once the Deatschwerks injector seats. If there is a fair amount of gas left in the injector port, it may even just slip in … no "pop" feeling.
5. Once you have the deatschwerks injectors seated, just reverse the steps in #2